Forest Avenue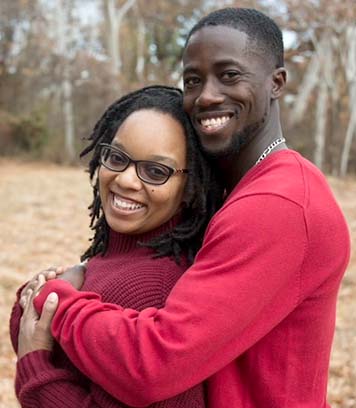 Hi Forest Avenue neighbors! We are Carl and Leah Conserve, your Caring Community Team and we are looking forward to getting to know you, hearing your story and being a part of the Forest Avenue community with you.  
Here is a bit of our story:
Carl was born in Haiti and grew up in Belize. He loves living in Chico and the joy of raising a family here. Leah was born in Los Angeles, and raised in Magalia and Chico. Carl works for Enloe and Leah is a full-time stay-at-home mom. We enjoy sports, reading, and exercise, and Carl loves being a girl dad to our three beautiful little girls!
We got married in 2013 (WOO-HOO!), and our three daughters are named Lydia, Darci, and Rebekah. As a family, we love to be active outdoors, so if you see us out and about please don't hesitate to say hello!
We both LOVE to serve others practically and intentionally at our church but especially in the community. Therefore, we are really looking forward to meeting each of you and serving you well. We are thankful for the opportunity to begin an exciting adventure together, and we look forward to hosting Caring Communities events while living everyday life with you.
So come on by and see us! And make sure to check out the fun events we have planned at the clubhouse!

A Word from the Management
At Forest Avenue Apartments we realize you want more than a place to live – you want a community of friends, a place to belong and a caring touch. We partner with Creating Caring Communities, a local non-profit organization, to provide a Caring Community Team to enrich residents' lives. They plan community activities, welcome residents and are available to assist residents in times of special need. Get to know your Caring Community Team. They are here for you.


After living here for over three years, I truly appreciate the friendly environment the team has fostered. The events they organize make me feel like part of a close-knit family. I can genuinely say that our family feels cared for and valued thanks to their efforts."


Having lived here for six years, I have to say that I absolutely love the "Caring Communities" program. It has been instrumental in helping me connect with my neighbors, and the events they organize are incredibly enjoyable."


In just one year of being a resident, I've been amazed by the strong sense of community fostered by CC program. It has provided numerous opportunities for me to meet and connect with fellow residents."


I have been a resident for nine years, and continue to be impressed by the diverse range of activities and projects offered thanks to Caring Communities. The inclusivity they promote allows people from various age groups and backgrounds to come together and enjoy themselves. Interacting with individuals of different ages and social backgrounds on a regular basis has truly enriched my life. If I were to rate the impact of the CC Team on a scale of 1-10, it would undoubtedly be an 11!"